EASY FLOW TEA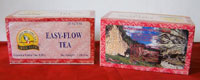 ACHIOTE (Annato leave) - Bixa orellana
ORTIGA (Nettle) - Urtica dioica
UÑA DE GATO (Cat´s clan herbs) - Uncaria tomentosa
HOJA DE PERA (Pear leave) - Pyrus communis
MANAYUPA (Manayupa) - Desmodium molliculum




This tea helps with inflammations and ardor of the prostate as well as irritation when urinating. It favors natural urination. It is a perfect complement to reinforce the effects of pharmaceutical and natural treatments.




Place one or two filter bags in a cup with boiled water, then infuse for 4 to 6 minutes. If desired, sweeten with sugar, honey, or Stevia to taste.




No contraindications or side effects are known.




Store in a cool, dry place and keep out of the reach of children.
These statements have not been evaluated by the Food and Drug Administration. This product is not intended to diagnose, treat, cure or prevent any disease.